That people who use drugs are treated with equality and respect and have a voice where decisions effecting their life are made.
We provide advocacy for people who use drugs and work towards protecting their civil liberties and human rights within services.
People who use drugs have rights, but not all people know how to stand up for them rights and don't know change is possible.  People's rights are not always respected, protected and fulfilled. The community of PWUD also experience difficulties in claiming and asserting their rights equally. Although there continues to be support towards the community of PWUD, their rights are still not fully embedded in Ireland. Decisions-makers and services routinely make decisions that affect the community of PWUD without considering their rights and many PWUD experience high levels of inequality, discrimination and stigmatisation.
Advocacy and Human Rights
UISCE provides free and confidential advocacy to people who use drugs in Ireland (aged 18 and over). If you feel like your rights are not being respected, UISCE can support you to make sure your voice is heard.
Peer-led outreach is the main way UISCE engages with the community of people who use drugs in Ireland. Our team of peer volunteers go out on the streets to talk to people, identify their needs and offer support.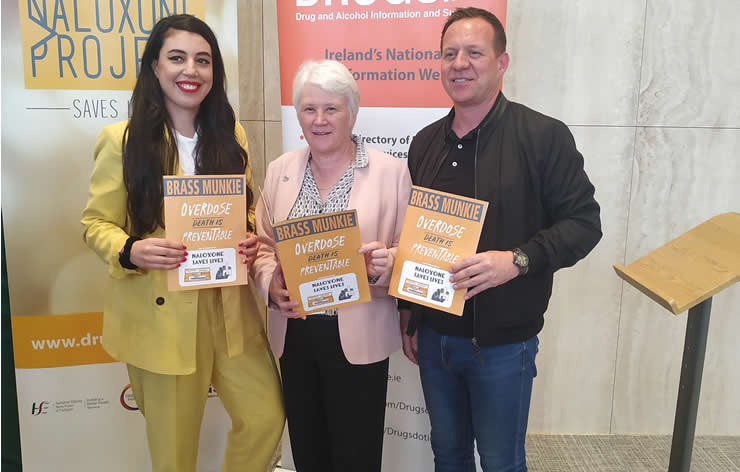 Overdose Awareness – Naloxone
Naloxone is an antidote used to reverse the effects of opioid drugs like heroin, morphine or methadone – if someone overdoses.
Naloxone only works if the person has used opioids. It has no effect on other drugs.
UISCE provides support with a peer-led outreach team, we design and produce a magazine, support group facilitation and much more! To ensure people who use drugs are treated with equality and respect and protect their human rights.
If you wish to request advocacy services or information on our projects and outreach programme or interested in working with UISCE, please contact us or drop in.