September 30th is International Recovery Day.
Today we want to share with all of you what we've done during September – Recovery Month – to celebrate people in recovery.
This year's Recovery Day theme was #LeaveALightOn to shine a light on Recovery, make Recovery visible in communities, challenge stigma, highlight that Recovery is possible and show that Recovery is cause for celebration.  Many important buildings around Ireland (and around the world!) were lit up in purple to show support. Check out Christ Church Cathedral below!👇🏽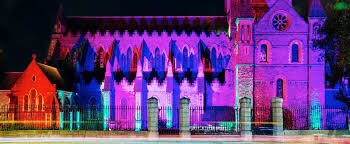 What do we mean when we say Recovery?
Recovery can mean different things for different people: (Adapted from Twitter – @GarrettReuscher)
Recovery is abstaining
Recovery is cutting down
Recovery is using safer
Recovery is making a goal
Recovery is taking medication
Recovery is trying again
Recovery is not using alone
Recovery is carrying Naloxone
Recovery is self care
Recovery is ever changing
Recovery is defined by YOU!
We believe that knowing how to respond to an overdose and carrying Naloxone is a really important part of Recovery.
This is why we teamed up with our friends from Ballyfermot Advance Project and SOILSE to train staff and peers on Overdose Response and Naloxone Administration.
And how can we forget the incredible Recovery Coaches from Recovery Academy that we trained back in July?
Again, we want to thank the incredible team at MQI for supporting us with this, especially Dr. Kieran Harkin for teaming up with us to distribute Naloxone to people who needs it.
We also participated in Run for Recovery! Of course, this year things were a little different and we had to do it individually due to COVID19 restrictions, but that did not stop us!
We also want to share with all of you the INCREDIBLE mural that was designed by Fionnuala Halpin to celebrate Recovery Month. So many great services and agencies came together to work on this project and we want to thank everybody for including us in this initiative and for all the work you put into it. We know that COVID is making things a little more challenging this year, but we proved that working together, there is nothing we cannot achieve.
Special thanks to the amazing teams from SAOL, HOPE, SOILSE, The Bridge Project, CDETB, Crinian Youth Drug Project, NWICTDP, Talbot Centre, Pathways Centre, NEIC, NICDATF and HSE Inclusion Hub 👏🏽👏🏽
Finally, we want to share this message of support that Lord Mayor of Dublin Hazel Chu shared on Twitter and to echo her words of encouragement and support to our friends from Recovery Academy Ireland.
More info