International Overdose Awareness Day 2020
August 31st is International Overdose Awareness Day
International Overdose Awareness Day was been celebrated  since 2001. Every 31st August many community members as well as government and non-government organisations have held events to raise awareness and commemorate those who have been lost to drug overdose.
We know we are almost in the middle of September (time…right?) but we wanted to share with all of you how we celebrated IOAD this year. As you can imagine, we were limited by the COVID19 restrictions, but we put our masks on, stayed 6ft apart and made it work!
So… what we did to celebrate IOAD 2020 you ask….? Well, we'll tell you!
One of our main priorities for International Overdose Awareness Day 2020 was to make sure that we were able to support as many peers as we possibly could to access Naloxone. So, following all the work that we've been doing over the last few months, we organised Overdose Awareness and Naloxone training sessions for peers and staff at services in the Dublin area.
Before go into detail, just a quick reminder about Naloxone 👇🏼👇🏼
What is Naloxone❓
Naloxone is an opioid antagonist, meaning that it can revert the effects of an opioid or opioid related overdose (OD) if administer within a short period following an OD.
Naloxone acts quickly, restoring the breathing in just a few minutes (2-3min), but its effects are temporary (20-90min).
Naloxone is really safe to use! – Naloxone only works if the person has used opioids. It has no effect on other drugs (alcohol, benzos, etc) and it doesn't harm the person if they don't have opioids in their system.
We were lucky enough to train staff peers from SAOL and Ballyfermot Chapelizod Partnership on how to respond to an Opioid Overdose and how to administer Naloxone, but not only that… We were able to provide Naloxone kits for peers that needed them!
We want to thank the incredible team at MQI for supporting us with this, especially Dr. Kieran Harkin for teaming up with us to distribute Naloxone to people who needs it.
Part of our work over the last few months has been focused on making sure that the community of people who use drugs know about Naloxone, where to get it and how to use it. Raising awareness about Naloxone has been a key priority for UISCE for years and, for IOAD 2020 we wanted to show how all the work we (and many other incredible organisations) have been doing around Overdose Awareness and Naloxone Training had impacted the community.
Back in 2018, we asked peers if they knew what Naloxone was, where to get it or how to use it. This year, we asked the same questions and we were really inspired by the answers that we got!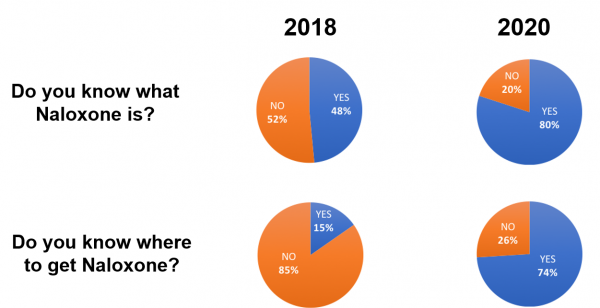 More people know what Naloxone is – 80% peers said there knew what Naloxone was (that is a 67% increase!)
More people know where to get Naloxone – 74% vs 15% back in 2018 (that is an – almost-  400% increase!)
This year, we also asked people if they were trained on how to use it and 50% of those who we linked with say they were. This is our next challenge: making sure that EVERYBODY gets trained on how to use Naloxone!
Finally, we want to thank the HSE, the Department of Health, Minister Frank Feighan and everybody that participated on the webinar that took place on IOAD (Aug 31st). We had the opportunity to share all the work that UISCE has been doing around Overdose Prevention and Overdose Response and it was great to hear from other agencies and organisations. You can read more about it here!
August 31st has passed, but our efforts to raise awareness about Overdose and Naloxone are not going anywhere.
One life lost to Overdose is one too many. 
If you want to get trained on how to use Naloxone, PLEASE! send us an email info@myuisce.org or give us a call 01 5554693
More info